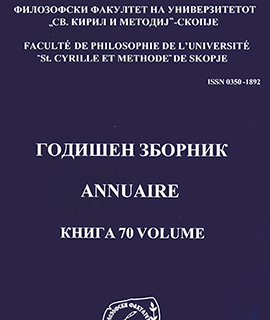 За Годишниот зборник на ФзФ

About Годишен зборник на Филозофски факултет - Скопје

Годишен зборник на Филозофски факултет - Скопје е списание кои се издава еднаш годишно за потребите на наставно-образовната и научната дејност на Филозофскиот факултет во Скопје.

Списанието се издава од 1948 година и претставува едно од најстарите научни публикации во Македонија.



ИСТОРИЈАТ

...

The journal Годишен зборник на Филозофски факултет - Скопје is an international peer-reviewed journal, published by the Faculty of Philosophy at the Sts. Cyril and Methodius University in Skopje, Republic of Macedonia.

The journal publishes one issue per year.

Годишен зборник на Филозофски факултет - Скопје aims at creating a forum for the educational and scientific activities of the Faculty of Philosophy in Skopje.

The journal is one of the oldest scientific publications in Republic of Macedonia and has been published since 1948.

HISTORY

...